Are you looking for an adventure-filled summer? We are looking for Deckhands who are hardworking and have great people skills — no experience required!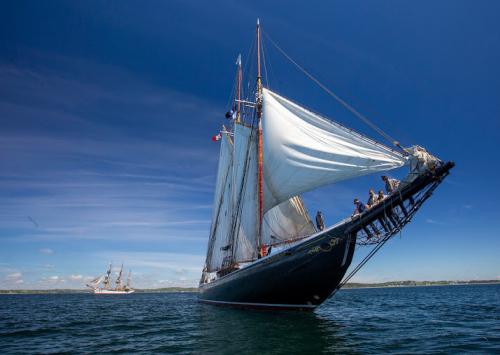 Thank you for your interest in becoming a Bluenose II Deckhand. The competition has now closed. Please check back next year.
Description
The Deckhand's responsibilities include ship maintenance, steering and sail handling, standing watch, cleaning, and engaging with ship's visitors and passengers.
Bluenose II is a Canadian Icon and Nova Scotia's sailing ambassador. The ship travels around the Maritime provinces promoting the history of the Atlantic fishery and acting as a tourist destination to the ports she visits. The season runs from April 1 to October 15.
When in port, you will stand deck watches, engage with visitors, clean and do maintenance as needed. While underway, you will take turns steering the ship, handle sail and keep watch on a 4-hours-on, 8-hours-off schedule. In most ports, the ship sails with passengers on 2-hour cruises twice per day (occasionally three times). You will be required to handle sail, steer, and engage with passengers on harbour cruises.
The season starts in April with two months of maintenance of rigging, followed by a week of sail and safety training. The sailing season finishes late September and is followed by 2 weeks of downrigging and winterizing. Exceptions for start and end dates will be made for those who are completing studies.
To be successful as a Deckhand, you should be able to follow orders and obey all safety regulations. You must be hardworking and able to work long hours on irregular schedules. During the sailing season, most of your time will be spent interpreting the ship to the general public and participating in public harbour sails. Please note that no experience is required - all necessary safety courses and training will be provided prior to the sailing season.
Requirements
● Be at least 19 to 30 years of age during the 1st year as a Deckhand
● Be a Canadian citizen
● Work and live on board continuously April 1st through October 15th
● Be able to pass a Transport Canada Seafarer's Medical
● Hold a valid Canadian Passport that will not expire within the current year
● All successful applicants will be required to have obtained, prior to employment, WHMIS, Seafarer's Medical, Criminal Record Check and Vulnerable Sector Check
● Must be able to live in close quarters for the 6-month season
● No experience necessary
Responsibilities
● Perform maintenance on Bluenose II including dealing with paints and other chemicals, heavy lifting, and working in dusty and dirty environments.
● Sail handling
● Steering the ship under direction of officers
● Seamanship including knots, bends and splicing as required
● Assist the Chief Cook as required on a rotational basis
● Assist the Chief Engineer as required
● Stand watch on a "4 hours on" – "8 hours off" basis at sea and as required in port
● Stand night watch on a rotational basis
● Participate as required in the ship's security plan
● Participate in and pass specialized training as required under Transport Canada regulations for Bluenose II (Marine Basic First Aid, MED-DVS A2)
● Continuously promote Bluenose II and what it stands for as well as promote Lunenburg, Nova Scotia and Canada
● Answer any and all questions that visitors may have relating to the Bluenose II
● Participate in duties, drills and sail handling on a regular basis
● Be prepared to participate in a physically demanding job in various weather
The ideal candidate is:
● Interested in working at sea
● Interested in working in the tourism industry
● Hardworking
● A team player
● Able to work long and irregular hours
● Has a taste for adventure and travel
This is a paid position. Room and board are provided on ship during the 6-month season.
To apply, submit your application, resume and cover letter to director@bluenose2.ca no later than January 29, 2021 no later than 4pm. Only successful applicants will be contacted.
Download the application form (word 20kB)
For other employment opportunities (retail sales, Bluenose II Company Store), submit your resume to director@bluenose2.ca