Please note: Bluenose II is unable to take passengers for the 2020 sailing season. The crew will embark on a Sail Past Summer tour, sailing by communities around Nova Scotia, as well as parts of New Brunswick and PEI. Follow us on social media (@sailbluenoseii) for specific dates and locations. We hope to welcome you aboard next year for the 100th anniversary of Bluenose.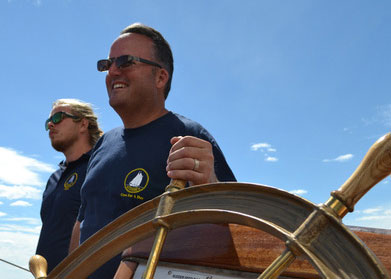 Ever wonder what it would be like to crew on a Tall Ship for a day. 
We offer you the chance to become a crew member on Nova Scotia's Tall Ship BLUENOSE II for a day. 
Sign-on at 0800 at the Bluenose II Company Store and leave Lunenburg Harbour to sail to Mahone Bay for the day. Returning at 1800 to sign-off. 
While sailing the beautiful islands around Mahone Bay you will take your turn at the wheel, learn knots and splicing. Learn how to properly anchor a 300-ton schooner. You will stand watch, keep a look-out and handle sail with the regular crew. Lunch with the rest of your shipmates. 
Before departure you will be given a safety orientation and a brief talk about the history of BLUENOSE by the Crew..
Maximum day crew is limited to 12 adults (must be 16 or older) and the cost is $625 all taxes and fees included.
Please include your jacket & t-shirt size i.e. S,M.L.XL, XXL. You will be given these items.
Book your Deckhand for a Day experience online.
Watch CBC Reporter Colleen Jones as Deck Hand for a day
Emma Smith  Editor of Lighthouse Publishing ,  Deck Hand for a day
Tara Sloane, Rogers Hometown Hockey Host  Deck Hand for a day